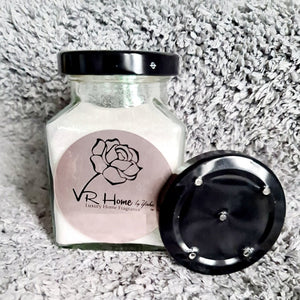 Our powdered carpet fresheners are a game changer! 
Bold, aromatic and unique! Agarwood (Oud) is one of the most expensive ingredients in the world. We have captivated its powerful scent in this diffuser, with added notes of amber and tonka bean.
Designed to spruce up carpets and rugs, our fresheners will nourish your home with a luxurious refreshing designer scent.
Our unique handmade formula minimises bad odours, helps to lift stains, and refreshes the appearance of your chosen surface. It has plenty of uses it can be used on: carpets, upholstery, mattresses, even fabric car interiors leaving them utterly refreshed.

All our powders come in a reusable glass jar, with easy lift lid, when empty simply refill with your favourite scent! 
To use, lift lid, sprinkle over your chosen surface, leave for a minimum of 10 mins, we recommend 20 mins for optimal, lasting scent, then simply vacuum. 

Use within 6 months of purchase.