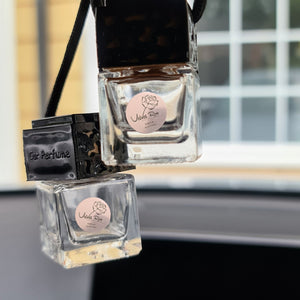 Cuban tobacco & oak is a stunning aromatic vintage cologne notes lead into a heart of rich sweet tobacco, warm spices and a hint of cognac. Smokey woods of oak, ebony and incense combine with dark musks to complete this fragrance.
Our car diffusers come carefully packaged with a handmade diffuser lid designed to allow the fragrance to strongly filter through into a small space. Each diffuser comes with strings to allow you to hang in your desired location.
Before the first use, unscrew the bottle cap and remove the plastic stopper. Carefully screw the top back on and tilt the bottle gently to let the cork absorb the fragrance and diffuse its aroma. Be careful not to shake the bottle or turn it upside down, as it may cause spillage. Once the plastic stopper has been removed, keep the diffuser upright at all times. 

To boost your fragrance we recommend tilting the bottle for a few seconds every 4-5 days to allow the fragrance to penetrate the cork inside the top of the bottle.
Customer Reviews
09/08/2021
shradhdha k.

United Kingdom
Very seductive fragrance
The product came well packed and very please with the whole experience. Defo buying more x
11/25/2021
VR Home by Yinka
Hi Shradha, Thank you for your kind words, so pleased you love them xx
11/20/2020
Mariam A.

United Kingdom
My car smells sophisticated
I love the blend of this car diffuser, the scents were unfamiliar to me but worth the punt! Both woody and sweet, but subtly sweet. The scent fills my car, but not overpowering. I shall definitely be buying this again!