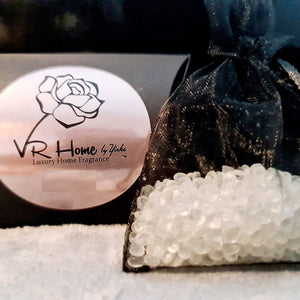 Cuban tobacco & oak is a stunning aromatic vintage cologne notes lead into a heart of rich sweet tobacco, warm spices and a hint of cognac. Smokey woods of oak, ebony and incense combine with dark musks to complete this fragrance
Infuse your small spaces with our gorgeous VR Home by Yinka fragrance pearl bags.
A simple touch of everyday luxury - great for filling small spaces with a beautiful scent.
Just remove your fragrance pearls from the outer box, and place the bag in your drawers, your hoover bag, your wardrobe, your shoes or your car, to leave a luxurious fragrance behind.
Available in each of our popular fragrances - for a guide to our fragrances click here.