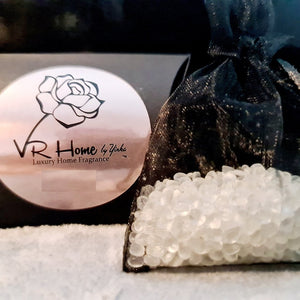 Infuse your small spaces with our gorgeous VR Home by Yinka fragrance pearl bags.
A timeless scent, if you love Coco Mademoiselle, our Mademoiselle is for you, the top notes are Orange, Mandarin Orange, Bergamot and Orange Blossom; middle notes are Turkish Rose, Jasmine, Mimosa and Ylang-Ylang; base notes are Patchouli, White Musk, Vanilla, Vetiver, Tonka Bean and Opoponax. 
A simple touch of everyday luxury - great for filling small spaces with a beautiful scent.
Just remove your fragrance pearls from the outer box, and place the bag in your drawers, your hoover bag, your wardrobe, your shoes or your car, to leave a luxurious fragrance behind.
Available in each of our popular fragrances - for a guide to our fragrances click here.