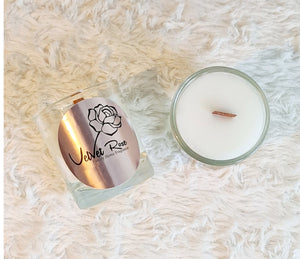 Bold, aromatic and unique! Agarwood (Oud) is one of the most expensive ingredients in the world. We have captivated its powerful scent in this diffuser, with added notes of amber and tonka bean.
Our luxurious crackling wick candles are made using natural wood wicks, designed to gently crackle as they burn. They are absolutely perfect for creating a relaxing and calming ambience, whilst filling the room with stunning fragrance. 
Each hand poured candle has an average burn time of 25-35 hours. 
Our wax is vegan friendly, cruelty free, non- GMO, and not tested on animals.
Available in each of our popular fragrances - for a guide to our fragrances click here.
For the best results and safety, we recommend your first use to be a minimum of 30mins to allow the top layer to fully melt, creating a even burn and a maximum of 2hours to prevent the vessel from overheating. 
Do not leave candles unattended
Ensure you are trimming the wick before each burn to prevent a tall flame.