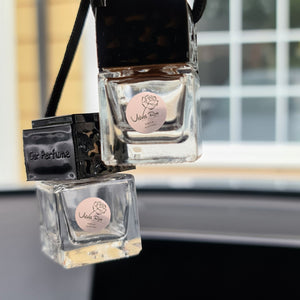 A classic scent, with a top note is Cassis; middle notes are May Rose and Freesia; base notes are Vanilla, Patchouli, Ambroxan and Woody Notes
Our car diffusers come carefully packaged with a handmade diffuser lid designed to allow the fragrance to strongly filter through into a small space. Each diffuser comes with strings to allow you to hang in your desired location.
Before the first use, unscrew the bottle cap and remove the plastic stopper. Carefully screw the top back on and tilt the bottle gently to let the cork absorb the fragrance and diffuse its aroma. Be careful not to shake the bottle or turn it upside down, as it may cause spillage. Once the plastic stopper has been removed, keep the diffuser upright at all times. 

To boost your fragrance we recommend tilting the bottle for a few seconds every 4-5 days to allow the fragrance to penetrate the cork inside the top of the bottle.