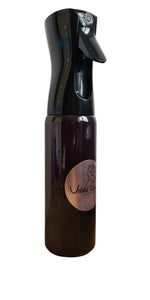 Our most popular scent! 
A rich, layered fragrance, with notes of Middle Eastern damask rose and clove, enveloped in smokey oud wood. Creating a long lasting magnificent scent in your home. 
This premium fragrance mist comes in a refillable Flairosol bottle, that is not only propellant free and non pressurised, the bottle allows for both continuous and 360° spraying. 
The bottle has also been designed to give near 100% evacuation of the bottle contents, so you can savour every single drop of our luxury room mist!
A little extra tip from us - a light spray, while you're ironing, helps ease away those stubborn creases – and leaves clothes with an amazing smell! 
Customer Reviews
05/04/2021
Kathy F.

United Kingdom
Beautiful Aroma
The room and linen mist is amazing. The aroma lasts all day in my home and is so fresh not too heavy. The mister is so good it emits a fine mist that lingers for a long time. I have also used on items of bedding and clothing during ironing process and the result is a beautiful long lasting scent. The Oudh is lighter in fragrance than some I have used and you certainly get more of the Rose coming through. Very happy with my purchase and would order again.
05/10/2021
VR Home by Yinka
Hi Kathy, This is such a joy to read, thank you for leaving such a great review. Using during ironing is definitely a game-changer I'm so pleased you are so happy with your purchase, thank you once again. Much love, Yinka
02/22/2021
Miss C.

United Kingdom
Smells Amazing
The fragrance lasts all day in your room and linen. I just had to purchase more!
02/23/2021
VR Home by Yinka
Thank you for the great review Nisha, so happy you love our room and linen mists! If you're anything like me, you'll be on the hunt looking for more things to mist in your home :) Yinka xx
01/25/2021
Dua A.

United Kingdom
12/02/2020
Chanice L.

United Kingdom
Are you kidding me?
This is such an amazing product, I am so mad at myself for not purchasing earlier. How is it I've only purchased this, where has it been all my life. It smells amazing and the smell lasts for hours. Defintely buying this again and trying their different seats. Beautiful product! Highly recommend it.
11/28/2020
Yasmin

United Kingdom
Amazing products and friendly helpful staff
I absolutely love this product, I ordered the Velvet Rose and Oud room and linen mist. It smells incredible, it lasts a long time and sprays really well. Today I ordered a lot more products because I loved it so much, I was stuck on where to add my discount code and the amazing assistant Yinka was very instant to respond, patient and helpful. I buy a lot of products but this is the first I have ever reviewed and it's due to the top quality product and impeccable service! Thanks you :))
12/01/2020
VR Home by Yinka
Thank you for the wonderful review Yasmin, I am so pleased you are happy with your products! And that we got the code issue sorted :D Thank you so much